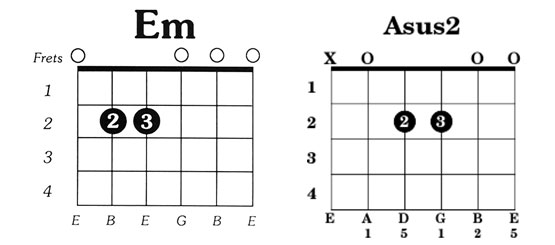 The 2 easiest chords to play on guitar are E Minor chord and A Sus2 chord.  By learning these 2 ultimate guitar chords, you will be able to play good acoustic guitar songs like Little by Little by Oasis (Verse only) and Breathe by Pink Floyd. These are just 2 basic chords for beginners.
Also while you're here, check out a free report 50 ways to improve your playing.

F Minor guitar chord or it's alternative names (F minor, Fmin, Fm) doesn't appear too often in guitar chords songs for beginners but it's one that you need to know. There are different variations to play Fm guitar chord. Here is some basic guitar chords chart to each voicings' fingering.
The easiest way to play the Fm chord is using the following method.  This is the easy and basic guitar chords finger placement for Fm guitar chords. Don't worry if you struggle to hold the chord guitar. All it takes is PRACTICE, PRACTICE and PRACTICE!