Barre chords are one of those hurdles that guitarists need to jump over to get to the other side of their guitar prowess.
Barre chords are essential to any guitarists' arsenal of tools because of their creative power and once mastered, their ease of use.
Remember with barre chords to always place your barre close to the fret…directly against the fret to achieve the best possible sound.
Thumb position should be flat located around the middle of the neck so that you can pivot freely from side to side.
Arch your hand so your thumb can pivot smoothly.
This is the part of hand mechanics that so many overlook when playing barre chords.
With your hand arched, you'll be able to pivot off your thumb and sway your elbow toward your body and away from your body if needed.
Below are two popular major barre shapes: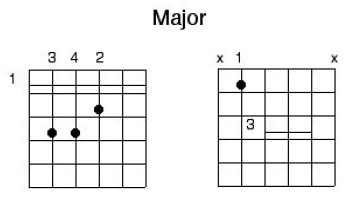 Want To Learn More …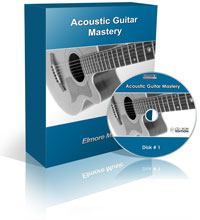 Learn to play the acoustic guitar using this brand new video series.  It's just like having your very own private tutor in your home guiding you every step of the way.
We show you how to play the acoustic guitar the right way and alleviate the frustration and stress that comes with learning anything new.
With our standard step-by-step instructions and video 'Acoustic Guitar Mastery' is what you need to successful learn to master the acoustic guitar.
We give you our qualified tutor plus the need to know topics to help you learn quicker and with minimal stress doing so.
---