If you're new to playing guitar you're going to run into a few of the same problems that EVERYONE does.
One of these problems I'd like to help you with in this lesson: changing chords faster.
I'm going to spend time on a few open position chords that are quite popular and by the end of this article you will be well equipped with the knowledge to make these changes faster than you currently do.
The most important point to consider no matter what chord change you're attempting to make is keeping your movements as small as possible. I have a phrase I like to use quite often:
Minimal Effort – Maximum Result
If you remove your whole hand and fingers away from the strings as you make a transition the chances of landing on that next chord in time is very slim.
Less effort is needed here. Keep your fingers very close to the strings and only move your hand as much as you need to accommodate the next chord.
It's very helpful to use your fingers to slide against each other to keep them in proper playing position. I demonstrate this technique in the video.
For example, for a D – C change I glide my 2nd finger along my 1st finger and I keep my 3rd finger against my 2nd finger so I'm prepared to land my C chord with minimal movement and effort.
You may also want to think ahead to the next chord and re-think how you might finger a chord so you don't have to create more movement. I demonstrate this with the E minor – A minor change.
I use my 2nd and 3 rd finger for the E minor so all I have to do is move the 2-finger shape down one set of strings and add my 1st finger for the A minor.
Leaving your fingers together in transition is SO important in minimizing your movement here.
Move slow and keep telling yourself to keep your 2nd and 3rd fingers together.
Want To Learn More …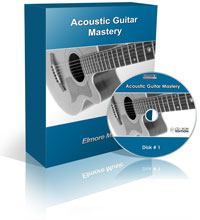 Learn to play the acoustic guitar using this brand new video series.  It's just like having your very own private tutor in your home guiding you every step of the way.
We show you how to play the acoustic guitar the right way and alleviate the frustration and stress that comes with learning anything new.
With our standard step-by-step instructions and video 'Acoustic Guitar Mastery' is what you need to successful learn to master the acoustic guitar.
We give you our qualified tutor plus the need to know topics to help you learn quicker and with minimal stress doing so.